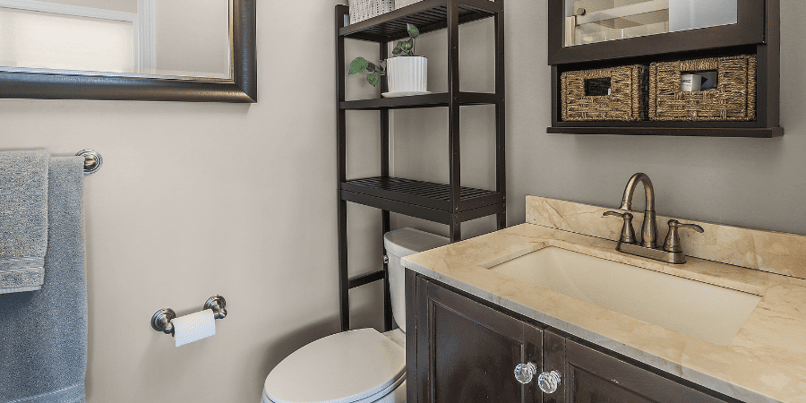 In uncertain times, times when we may not even be able to visit the local movie theater or coffee shop, it stands to reason that we perhaps should turn our homes into the getaway spot we've been dreaming of. One of the best ways to do this is to transform a bathroom into a luxurious, spa-like space for relaxation and recuperation.
On the other hand, installing deluxe bathrooms is more than just a way to improve our own lives, it's an efficient way to build equity in your home, increase the resale value, and build wealth. There are proven ways to do this, and not so proven ways. The best way is to study the real estate market for buying trends. But it's also worth your while to pay attention to bathroom trends that are sustainably popular over time.
To that end, here are 8 luxury bathroom concepts to inspire your next renovation project.
Bathroom With a View
To spend time in the bathroom, enjoying a hot bath or steam session, it helps to have something to draw your gaze. It could be a piece or collection of art, a piece of weatherproof media, or it could be a massive bay window or windowed wall. Imagine looking out over the top of that massive forest canopy, oceanfront scene, or glorious cityscape. The key to peace of mind is in our habits of thought, and the key to a beautiful luxury bathroom might be a splendid view.
Nature Bathroom Decor
The addition of flora in the bathroom can be turned up to 11 with the installation of interior planters. An opening wall facing a verdant garden is another striking design style. Incorporating weatherproofed wood panels with rugged textures along walls and transition points. A skylight is another important aspect of this design motif. Steam and generously sized windows are as well. The inclusion of marble and stone gives a real sense of permanence to the scene. The nature bathroom can be palatial in nature with hard surfaces or naturalistic with bamboo and open-air features.
Giant Bathroom
Of all the things we love about fine surroundings, space is key. Whatever it is you're looking for in a home space if one cannot move toward and away from it with ease, the enjoyment may be lost. This is equally true of bathroom spaces, and a good way to draw attention to, highlight, and venerate a prized asset such as a freestanding tub, steam chamber, or vanity, is to make the way to it broad and free of clutter. Add to this a bay window, or artwork and you may turn your valued bathroom asset into a temple of indulgence and self-care.
Gold Bathtub
Taking our cue from the idea of the giant bathroom, imagine an entire luxury bathroom build around a freestanding, gold-adorned, classic-style luxury bath. Or imagine a sauna-style bath sunken into the floor, overlooking the garden via a prominently positioned window. The idea here is to turn your bathroom into an ultra-exclusive luxury bath spa, where bathing is to be treated as a meditative experience, rather than just something to wash away the daily grime. It's called a bath-room for a reason, after all.
Luxury Bathrooms with Fireplaces
These days, it's common to install multimedia luxury bath technologies with Bluetooth temperature controls, automated skylights, and many other such high-tech features. But what about the progenitor of the TV set? What about a great, roaring fireplace in the bathroom? Today's modern natural gas-powered fireplaces are powerful, clean-burning, easy to maintain, and they look amazing. With modern ruggedization methods, they can even be used outdoors, so why not in the bathroom as well? It's a great way to heat your luxury bath in style with robust heat that can help keep a relaxing bath going and going.
The Paper Jungle
Incorporating plants into a luxury bathroom is a wonderful idea. The more sustainably, the better. With indoor planters and automated skylights, this is a very viable option. The best plants for this kind of environment are tropical, subtropical, and succulents. But what about wallpaper? Modern wallpaper is more durable, more water-resistant, and can be adorned with beautiful, artistic jungle scenes rendered in big and bold swaths of green. It's a playful and entrancing idea that can make your luxury bathroom feel like an island getaway.
The Marbled Spa
Going back and forth between more humble, naturalistic ideas, and palatial sanctuaries gilded in high-end surfaces, we return to the marble theme. Marble itself is the premium luxury bathroom surface. With the right planning and engineering, it can be exceedingly durable, low maintenance, and gorgeous. Make your bathroom feel like a world-class spa resort destination with marble serving as the star of the show.
The French Villa
It's amazing how much some well-crafted cabinets, stylized mirror frosting, and classy, hanging lighting can turn a humble vanity nook into a culturally rich French Villa-like beauty station. Prepare for your day or evening in high style with just a few details subtly rendered for top marks in flair.
There are thousands of configurations and features that can easily transform your bathroom into a dreamlike sanctuary. To learn more, get in touch with the luxury home renovation experts at Raymond Design Builders.