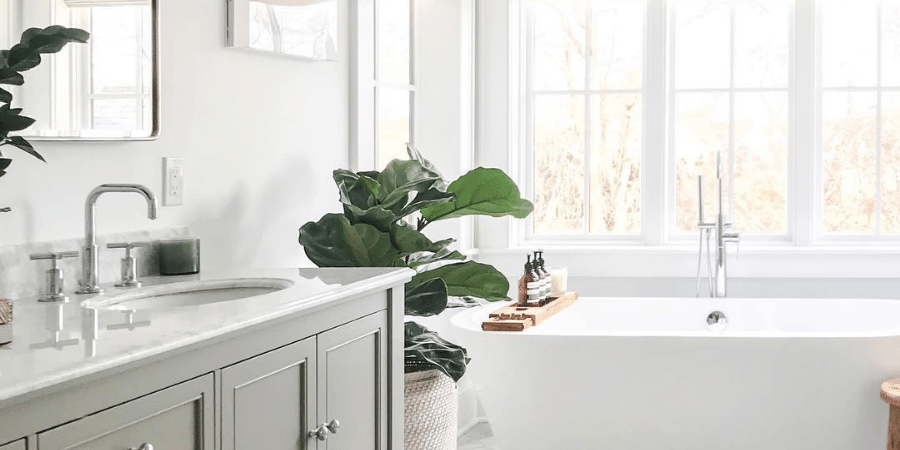 If you're in the market for a luxury bathroom remodeling, you can expect to spend between $5,000 and $15,000 on average. Nationwide, the minimum has been around $1,800 for a bathroom remodeling job and the maximum can top out at around $40,000. Your bathroom remodeling costs will depend on the scope of your vision, your choice of materials, the size and complexity of your bathroom. If you're looking at your bathroom and asking the question, "How much for high-quality bathroom renovations near me?" we can help to break it down.
Bathroom Remodel CT Price Estimates by Type
To get an idea of how to budget for your bathroom remodeling in Fairfield County CT, let's first look at the type of bath remodel you want to be done.
A "full bathroom" is made up of four components. They are:
Sink
Shower
Bathtub
Toilet
We can break down your total average bathroom remodeling cost. Almost every bathroom type will contain a toilet. According to Architectureideas.info, there are five different types of bathrooms, we can consider.
1. The Three Fixture Bathroom
The three-fixture arrangement will contain the basics; a toilet, sink, and bath or shower. It is designed to be used by just one person at a time and can be arranged in numerous different ways.
Average renovation costs: $18,578 to $25,139
2. The Compartment Bathroom
In order to reduce the humidity of the bath/shower feature, and allow for more than one user, the compartment bathroom creates a cubicle for the shower/bath. The Shower and bath can be combined or side by side, or one or the other may be selected.
Average renovation costs: $10,550 to $20,139
3. The Guest or Powder Bathroom
This type of bathroom tends to be the most minimalistic, consisting of a toilet and sink. It can be completely simplified like a traditional water closet, or it can contain a cabinet and mirror to make it a proper powder room. This type of bathroom can be the least expensive possible, or it can come in around the middle price range as a more stylized powder room.
Average renovation costs: $15,800 to $18,351
4. The Utility Bathroom
The average utility bathroom will contain three fixtures, the sink, bath, and toilet. It is common for a Utility Bathroom to contain a Dressing/Drying Area and a Linen Cabinet. Depending on your design, an additional Wash Basin, and Open Space may be worth considering.
Average renovation costs: $19,650 to $21,700
5. The Large Full Bathroom
A Large Full Bathroom will contain all four primary features of a bathroom. It is also likely to contain a Dressing/Drying Area, a Linen Cabinet, Additional Wash Basin/s, and additional Open Space.
Average renovation costs: $20,550 to $35,130
Additional Features to Consider
Dressing/Drying Area
Linen Cabinet
Additional Wash Basin
Tub and/or Shower
Open Space
Upscaling Remodeling for a Luxury Bathroom
With each one of our bathroom types, we can imagine anything between the most basic accommodations to a true luxury experience. Examples of luxury versions of our four primary bathroom features include;
Luxury Wash Basin
Soaking Tub
High-Quality Toilet
Luxury Wash Basin
The hallmark of a beautiful, luxury bathroom is a high-quality washbasin. Often a work of art all by themselves, luxury washbasins can be made from marble, ceramic, steel, and can make the simple act of washing one's face a pleasure.
Average cost: $123 to $2,000
Soaking Tub
No less beautiful than a high-quality washbasin, a luxurious soaking tub is a thing of beauty and a pleasure to spend time in. They come in all colors, many styles, and artisan renditions can be found for the discriminating customer.
Average cost: $1,500 to $4,700
High Quality Toilet
Few bathrooms could be complete without an attractive and dependable toilet. The best high quality toilets are simple, unobtrusive, and highly functional. You can spend as little as $500 on a simple toilet. But the best toilets available today feature hidden tanks. These are small and minimalistic. They save space, and they are highly functional.
Average cost: $500 to $4,800
Bathroom Remodeling Finishing Options
There are many wonderful finishing options to choose from. Tile and marble are classic, timeless, and come in a wide range of types and designs. Chrome and metal surfaces can be long-lasting, and give that desirable feeling of cleanliness. Wood is always an option for cabinets and trim, but it requires more maintenance than other materials. Glass is always a great option for closing in a shower area, but it can be used much more than you might expect. Installing a big, panoramic window fixture around a soaking tub is a sure way to make your luxury bathroom renovation stand out in Fairfield County.
Depending on the materials you choose and the complexity of your design, the average bathroom finishing will cost between $50 and $80 per square foot.
Design is Everything
To make your bathroom renovation project fit into your budget, you'll need to design your desired product, choose the bathroom type you are interested in, select additional features, and choose your finishing materials. Our professional bathroom addition contractors will work with you closely to find the design you like, at a price that suits your budget.