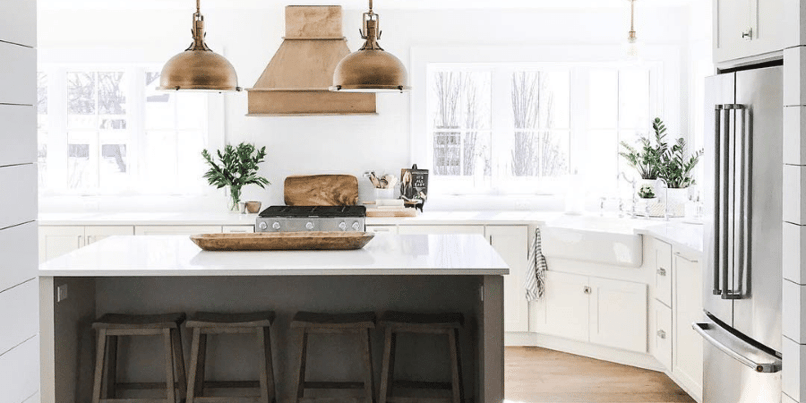 The kitchen is arguably the single most important room in your home. Understandably, you want it to be perfect. Renovating your kitchen into a dream kitchen is a big job. It's a major investment, and the results are semi-permanent. So you want to get it right the first time. That's why it's so important to fully plan your new dream kitchen design before bringing in the professionals to make it a reality.
To that end, we want to lay out some important considerations that you should make before and during the creation of your new dream country kitchen design. Our team sat down to build out a logical and functional brain-storm outline for you. Follow these preliminary kitchen renovation-idea tips, and you'll be well on your way to creating the ideal kitchen for you and your family.
Considerations to Start From
To create a working plan for anything in life, you want to define your starting point and your destination. Your starting point is/are problems with your current kitchen, assets/amenities/features you want that are absent, and problems you want to fix. Your destination is the final dream white kitchen product you want.
Common starting points to consider include:
Is your kitchen décor out of date?

Are your appliances antiquated?

Are your appliances not arranged in an ideal way?

Is there too little light?

Is there too little space?
These are just common examples. Let's say, for instance, that your kitchen has too little light, too little space, and old appliances. That's a solid description of the problem and a reason you to renovate. This also gives us a clear idea of what direction we need to take the room toward to achieve your dream kitchen layout.
So, let's say our goal is to create a kitchen with ample light, plenty of elbow room, new appliances with all the bells and whistles, and a white sink with stainless steel faucet. Adding new light means installing or expanding windows or building out a new lighting system. Creating more space for a more open kitchen environment can take us in one or two directions. We may focus on reducing the size of the existing counters and appliances, or we can expand into an adjacent patio space or another room. Updating your appliances means looking at what's available on the market, what features you want, or could live without, and discovering what products suit your needs. To incorporate the white sink with the stainless steel faucet you are dreaming of, we'll have to look at available models and plan changes to your countertop to accommodate them.
Space & Direction
The ultimate destiny of all technology is to be invisible and take up zero space. So it stands to reason that hidden, integrated, and flush dishwashers and refrigerators are closer to the ideal. It can take some careful engineering to make it work, but when your appliances are neatly tucked out of the way it makes space to move, work, and live- and that makes the kitchen more open and inviting.
Re-purposing Existing Space
The kitchen is a place for work, and the sink is where much of the least enjoyable work takes place. Limited capacities make cooking and cleaning more difficult and more time-consuming. Adding an oversized sink can add enormous functionality to your kitchen. But more importantly, it's a noticeable renovation that adds the kind of beauty that can only come from the convergence of style and functionality.
Appliance Needs
There is nothing that can improve the atmosphere of a kitchen space more fully than hardwood floors. Both modern and classic, hardwood flooring is a joy own. The best hardwood flooring is so beautiful that you will be inspired to take good care of it.
Consider Your Style Preference
Kitchen islands can be mobile or fixed, and they can be rendered in any style. Most importantly, they add tremendous functionality to your kitchen. The added storage and counter space mean you can reduce the size of your primary counters and cabinets. If planned and designed properly, this will open up space in your kitchen, making it a more functional and beautiful space.
Conclusion
You probably already have an idea of what you would like to do with your kitchen. As you begin setting ideas down on paper, start with areas and aspects of your current kitchen that feel in the way. You don't need to know how to draw a kitchen layout. We can work with you to create your design plans.
The kitchen is a living space, but it's also very much a workspace. That means room and efficiency matter. Keep these things in mind as you plan. Finally, if you're looking for a style overhaul to bring your décor up to date, consider the Luxury Kitchen Trends you want, and the ones you have that are going out of fashion. This will help give you a strong stylistic sense of where to begin.
Get in touch with the kitchen & bathroom renovation experts at Raymond Design Builders. We are a leading, luxury home improvement firm in Fairfield, CT. Our home design experts are ready to take your call. Get your quote here, and let's get started.