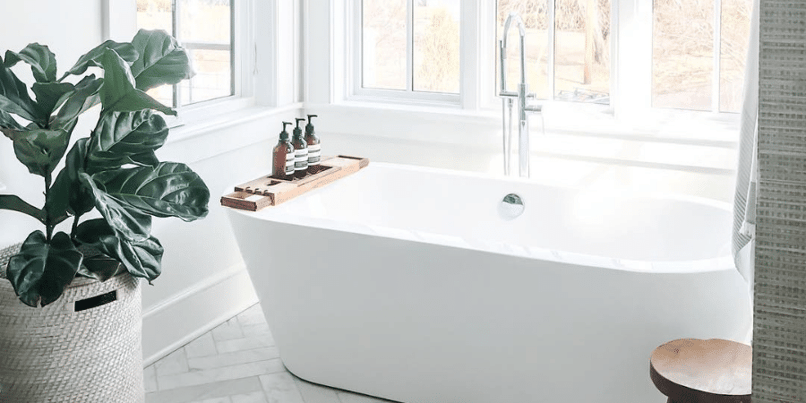 When it comes to resale value, equity-building, and for your own enjoyment of your home, few rooms are as important as the bathroom. While it's not the biggest return-on-investment space for a remodeling project, it's easily in the top 3. If you're looking to create a spa-like feel, turn your bathroom into your own personal boutique, meditation space, impress guests, or all of the above with a timeless bathroom design – there are some remodeling ideas that are a sure thing.
We sat down with our in-house bathroom remodeling experts here at Raymond Design Builders and asked them, "What are some of the most evergreen bathroom remodeling ideas?". Here's what they came up with.
9 Ideas for Timeless Bathrooms for Your Next Remodeling Project
These timeless bathroom ideas are selected for their ability to stand the test of time, boost ROI, and satisfy the homeowner. Admittedly, you'll find some of these items to be unsurprising as they are so obviously perfect for bathrooms. But sometimes, we need to be reminded of the classics. It helps us to consistently deliver amazing bath remodel CT style, even in the face of passing trends.
1. Freestanding Sinks & Tubs
If you have the room to complete the look properly, there's nothing more classic in bathroom decor than freestanding tubs and sinks. The sensibility relies on highlighting the item, and making the statement that 'this is what the bathroom is for.' It works great with a big, gorgeous claw-foot tub. Sinks are harder to pull off, but if you incorporate a freestanding sink in a small vanity bathroom, it's hard to go wrong.
2. Terrazzo Style Surfaces
This style of surfacing is somewhat rare these days, but it's something that returns to the popular imagination about every five to seven years for a year or two. It is a seamless and eye-catching style that will always look good and always have the appeal of the unusual.
3. Vintage Details
All it takes is a subtle shape, a classic texture, and some clever intentionality and you can strike a vintage tone. Many standalone sinks, tubs, and faucets are designed to be "vintage," and some aren't but can still fit the bill. The 1960s and 50s design sensibilities work wonderfully in the bathroom. If retro is your thing, there are many classic bathroom fixtures designed to scratch that itch.
4. Natural Elements
Incorporating permanent planters into your bathroom décor is an engineering and a horticultural challenge. But when done right, certain plants can thrive in the moist bathroom environment. The beauty of naturalistic elements is undeniable, and it works wonderfully with wood, stone, and light admitting features.
5. The Frameless Shower
A recurring pattern you'll notice is longstanding bathroom design trends revolve around simplicity. This is because material simplicity lends itself to cleanliness and ease of maintenance. When it comes to the shower, this is a big deal. Therefore, the clean and simple aesthetic of the frameless shower is always a winner. With fewer surfaces, cleaning will be easier and less frequent. Plus the elegance of the design works with almost any motif.
6. Subway Tile
With a hint of modern Europe, the classic American metropolitan look, and the feel of professionalism and permanence- subway tile conveys practicality while remaining amenable to luxurious surroundings. It is a timeless design choice that will never disappoint. You can choose a stacked or staggered pattern, or you can mix the two. It's a great backdrop for master bath vanity ideas. Better still, subway tile is easy to clean and repair.
7. Natural Stone
Stone is nature's most enduring material, and high-quality stone conveys beauty, style, and quality in spades. Engineered stone such as quartz is supremely durable. The timeless beauty of marble is almost impossible to use badly, and granite gives any surface a feeling of permanence and elegance. Even if natural stone will break your budget, consider its use in strategic spots, locations prone to wear, and areas where your attention is naturally drawn, such as within a glass shower next to vanity.
8. Texture Accents
Hardware elements like light fixtures, towel racks, and showerheads can be easily swapped out to great effect. These items meet the definition of the touchpoints we discussed above. The use of metal tones like gold, silver, and copper, or classics like glossy or flat black is always a strong choice. More importantly, these strong colors and textures can be easily swapped out for a noticeable change of bathroom highlights.
9. Quality Where it Counts
Not a design trend per-SE, using quality materials at critical points helps you to save money by using the most expensive materials sparingly. Critical points are surfaces frequently touched and locations where the eye is most drawn. These include faucet handles and the surrounding areas, cabinet doors and handles, the backdrop for the t.p. holder, shower soap rack, stepping points around the tub, and more. With this in mind, we can feel freer to use the most luxurious materials like marble and stone, even if we're working with a tight budget as we strive to flesh out eye-pleasing bathroom ideas.
Style Matters
It can be easy to overlook the importance of beautiful surroundings, but the quality of our living spaces has a major impact on our overall well-being. The bathroom is a place to prepare for the day, to unwind, relax and attend to some all-important self-care. A beautiful bathroom brings calm, a sense of security, and can have an impact on your health for many reasons. Try imagining a bathroom design centered around one or more of the timeless ideas discussed above. We'd bet you'll dream up something brilliant, and our team of experts can help! To learn more, contact Raymond Design Builders.