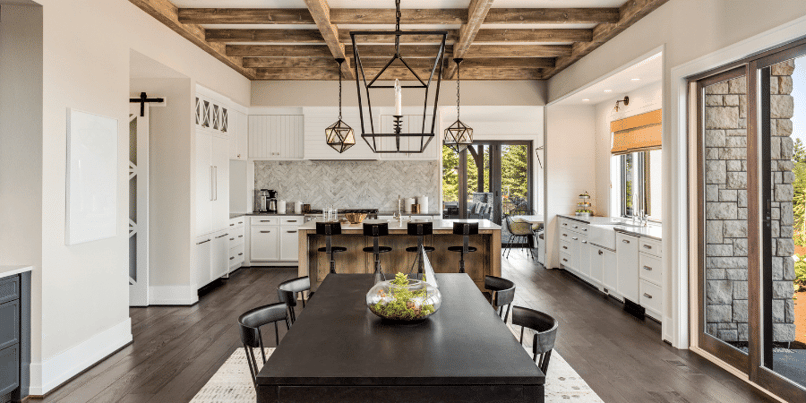 The kitchen is the heart of the home. It's for family, friends, guests, pets, and more, a place where you work hard to show the people in your life how much you care about them. So it only makes sense that it should be a beautiful place.
Most homeowners know this intuitively and put a lot of effort into having the most stylish and inviting kitchen atmosphere possible. While kitchen design trends come and go, there are some kitchen decor and design choices that will always be fashionable, functional, and make a great impression.
How much do kitchen renovations typically cost?
The total cost of your kitchen renovation will depend on the proximity of your kitchen to utilities and structural elements. It will also depend on the scope of the project and the materials you select. If you work with a reputable remodeling contractor in Fairfield, CT, you will pay more upfront than you would with a less professional organization. However, you can expect the legal work to be done properly, and the craftsmanship to be top-notch- which will save you time and money in the end.
In the final analysis, kitchen renovations cost between $100 and $250 per square foot on average. The average totals fall between $15,150 and $25,350.
When it comes to ensuring that your home is fashion-forward, sticking to timeless trends is a good idea. But, when you choose a look that never goes out of style, it also helps add equity to your home no matter what condition the housing market is in.
To that end, here are 9 kitchen trends that will never go out of style.
9 Timeless Kitchen Trends
These kitchen style trends are simple and straightforward, encompassing just one aspect of kitchen design. Most can be incorporated into many kitchen motifs, leaving the style management to you. What they have in common, we think you'll find, is that they are supremely practical and elegant, blending simplicity and beauty for an extraordinary effect.
1. Integrated Appliances
The ultimate destiny of all technology is to be invisible and take up zero space. So it stands to reason that hidden, integrated, and flush dishwashers and refrigerators are closer to the ideal. It can take some careful engineering to make it work, but when your appliances are neatly tucked out of the way it makes space to move, work, and live- and that makes the kitchen more open and inviting.
2. Oversized Sinks
The kitchen is a place for work, and the sink is where much of the least enjoyable work takes place. Limited capacities make cooking and cleaning more difficult and more time-consuming. Adding an oversized sink can add enormous functionality to your kitchen. But more importantly, it's a noticeable renovation that adds the kind of beauty that can only come from the convergence of style and functionality.
3. Hardwood Floors
There is nothing that can improve the atmosphere of a kitchen space more fully than hardwood floors. Both modern and classic, hardwood flooring is a joy own. The best hardwood flooring is so beautiful that you will be inspired to take good care of it.
4. Islands
Kitchen islands can be mobile or fixed, and they can be rendered in any style. Most importantly, they add tremendous functionality to your kitchen. The added storage and counter space mean you can reduce the size of your primary counters and cabinets. If planned and designed properly, this will open up space in your kitchen, making it a more functional and beautiful space.
5. Open Shelving
Moving air and sunlight are the best disinfectants. Open cabinets help eliminate spaces for dust and pests to hide in. More importantly, they make accessing your dishes and tools easier and more graceful. Being able to see your kitchen assets at a glance makes all tasks easier and more enjoyable.
6. Utilitarian Tile
More often called "subway tile," this style renovation is a relatively inexpensive one that adds an old "New York" feeling that's as down to earth as it is charming. Subway tile is easy to clean, and the "professional-pizza-kitchen" charm they provide will inspire you to make your kitchen into a place where real culinary magic happens.
7. Shaker Cabinets
The elusive elegance of the classic shaker style cabinet is not to be underestimated. These simple, functional cabinets are unobtrusive, easy to clean and look good in any color. They tend to have a more modern or contemporary look, but custom shaker cabinets can be made to suit any décor.
8. Stainless Steel
While stainless steel is supremely modern, the sheer simplicity, utility, and durability of its shining veneer make it work with a wide range of motifs. The absolute sensibility of stainless steel in a kitchen space makes it beautiful. The same is true of this material in bathrooms. Both durable and hygienic, this lustrous metal creates a kind of negative design space which makes it compatible with décor styles that it was never intended for.
9. Marble Counters
The ultimate in material elegance, marble counters are the perfect companion to hardwood floors. Marble comes in many styles and colors, and marble tile can be made to suit your vision no matter how unique it may be.
Design Your New Kitchen With Raymond Design Builders
Whether you're looking to completely remodel your kitchen, or just add one or two new material improvements, Raymond Design Builders can make your dream a reality. Start with a new oversized sink, and add elements as your budget and vision expand. Get in touch today to learn more and get a quote.