Remodeling doesn't just change your home. It changes your life, especially if you stay in your house during the remodel.
Living in home construction means making significant adjustments to your daily life. If you've made it to this blog, you've probably already laid in bed worrying about how life under renovation will impact you, your kids, pets, and other family members.
Don't let those anxious thoughts bounce around in your head! Put your mind at ease and prepare for your home improvement in Fairfield County by implementing these nine tips from Raymond Design Build.
How Do I Prepare for a Major Home Renovation?
1. Pick a Process
Different remodelers have different processes. They're called project delivery systems, and there are several options you can explore. Two of the most common delivery systems are design-build and design-bid-build. In short, the design-build process entails working with one contractor who provides both design and construction services; conversely, in design-bid-build, you work with an architect for design and a separate contractor for construction.
We believe the collaboration and streamlined workflow enabled by the design-build model provides a superior homeowner experience — that's why we've utilized design-build to create beautiful Fairfield homes for over two decades! Learn more about how design-build benefits your remodel.
2. Find a Trusted Builder
Once you know the best project delivery system for you, it's time to find the right professionals to oversee the process. Start your search for an architect or a general contractor in Fairfield, CT, with online research. Identify several candidates and ask to meet with them in person or over the phone at the very least. Vet your candidates by asking questions like:
Are you licensed and insured?
How long have you worked in the industry?
Can I see pictures of your previous work? Or tour a current work site?
Have you completed a remodel like mine before?
How long will it take you to complete my remodel?
How much will it cost?
How will you stay in contact with me during the remodel?
What's your process?
What sets you apart from other remodelers?
Be sure to ask about your builder's individual process. They likely have tailored their project delivery system to their company and client needs. They should provide a list of specific steps to demonstrate your remodeling journey, from the first consultation to the day construction wraps. Get an idea of what these steps might look like by reviewing our process at Raymond Design Build.
3. Plan Out a Timeline
After the initial consultation, your builder will work with you to create a tentative timeline for the project. Keep in mind that your timeline isn't set in stone. Material delivery delays, construction complications, or other issues could impact your schedule. Stay flexible to the best of your ability and know that your timeline isn't 100% reliable. Still, your timeline should give you a relative start, middle, and end for your remodel so you can plan accordingly. Print your timeline, write it down, and post it somewhere easily visible in your home, so you're always following along.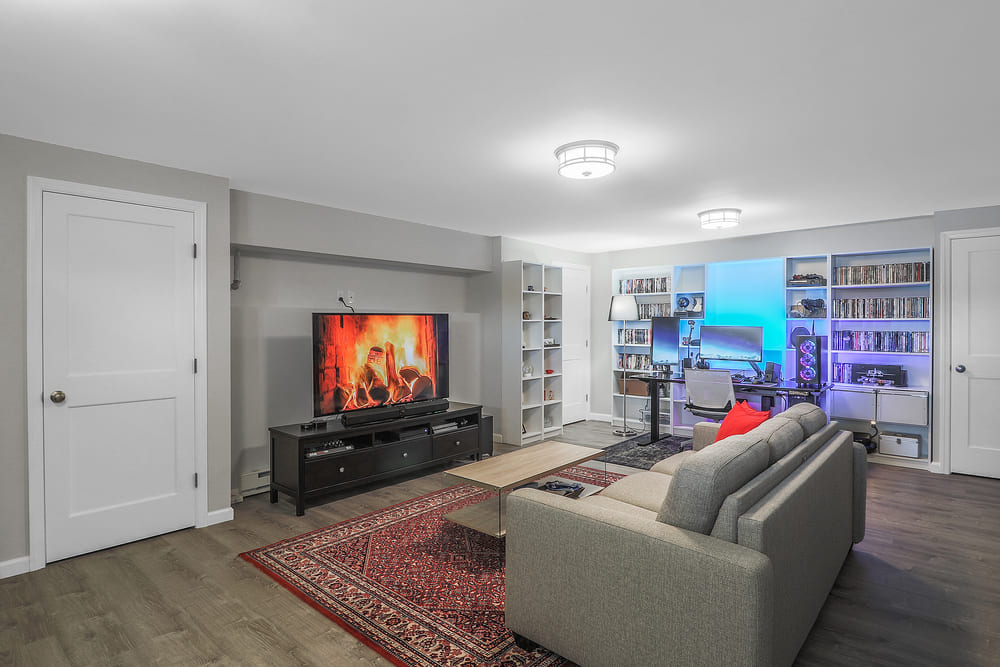 4. Establish Communication Channels
With all the variables that may arise during your remodel, you need to communicate constantly with your builder to stay up to date. Some builders will give you a point of contact, one go-to person you can call with any questions or concerns. At Raymond Design Build, we also use project management software to provide weekly updates on your remodel. You can follow along with your project from start to finish with a few clicks of a button. That way, you always know when construction will take place — no surprise construction workers showing up at your door!
5. Separate Work & Living Zones
Inevitably, construction makes a mess. There's dust flying up into the air, piles of tiles or raw wood, and a myriad of tools scattered around. The best way to avoid the construction mess is by designating separate areas for living and remodeling. Based on your remodeling timeline, determine what areas of your home will be available and when. From there, create separation by putting up sheets or tarps to cordon off construction rooms (your builder should do this for you). It may also be helpful to put physical barriers, like furniture, blocking the entrance into remodeling zones so curious kids or pets don't wander where it isn't safe.
6. Keep the Essentials Accessible
Before construction starts, you need to empty the rooms you're remodeling. Clear out cupboards, drawers, and closets. As you do so, sort out essential items from frivolous ones. You'll want easy access to the important things during the remodeling processes, so put them in a place you can find easily. The more frivolous items you can pack up and move into the attic, basement, garage, or anywhere else you have extra storage. If you're struggling to make room for all your items and clutter is overtaking your remaining living space, consider hosting a garage sale. It'll help you eliminate unnecessary items that may just be taking up space in your home.
7. Set Up Temporary Facilities
You don't have to find temporary housing during a home renovation. Still, it is advisable to set up temporary facilities within your home — especially if you're remodeling a crucial room like the kitchen or bathroom. Here are our recommendations for how to survive when your kitchen and bathroom are out of commission:
How to Survive a Kitchen Remodel
A kitchen is one of the most challenging rooms to live without. If you can, we recommend setting up a temporary kitchen in your dining room, laundry room, garage — wherever you have the extra space! Preferably, choose a room that has a sink or other water access. Move your refrigerator (or invest in a mini), microwave, and other small appliances into your temporary kitchen. Plan your meals around what you can quickly cook and clean using available appliances. To wash dishes, fill a bucket with water, use a utility sink, or even your bathtub. It also helps to eat out more often; think of it as an opportunity to support your favorite local eateries!
How to Survive a Bathroom Remodel
If you plan on remodeling more than one bathroom, be sure to do them at separate times, so you always have one available. Prevent bathroom backups by scheduling times for each family member to get ready in the morning and evening. You can also use shower caddies to carry essentials in and out of the bathroom to prevent over-cluttering. However, things get more complicated if you only have one bathroom. You'll have to work with your builder to install a toilet and a temporary shower while renovating a bathroom.
8. Embrace the Adventure
Mindset largely determines your remodeling experience. You can view your home construction as a burden, or you can see it as an adventure, a challenge to overcome to achieve your end goal. Use this time to get out of your daily routine and try something new. Spend more time outside or adventuring around town to avoid the construction noise; eat out at local restaurants if your kitchen is out of commission; put up a sheet tent in the kids' room to make sleeping there a magical experience while your bedroom is unavailable. Our best advice: be creative and look for reasons to have fun!
9. Keep Eyes on the Prize
Don't forget that there's a good reason your home is currently a disaster. Keeping the end goal of your remodel in mind helps you stay motivated, optimistic, and calm when it feels like there's nothing but chaos around you. With any luck, your builder will provide you with a computer-generated image of your remodel that you can look at whenever you need an extra pick-me-up!
Jumpstart Your Remodel Today
Now that you're armed with the right information let's jumpstart your remodel! Start interviewing candidates and learn more about what to expect for your remodel by contacting Raymond Design Build.