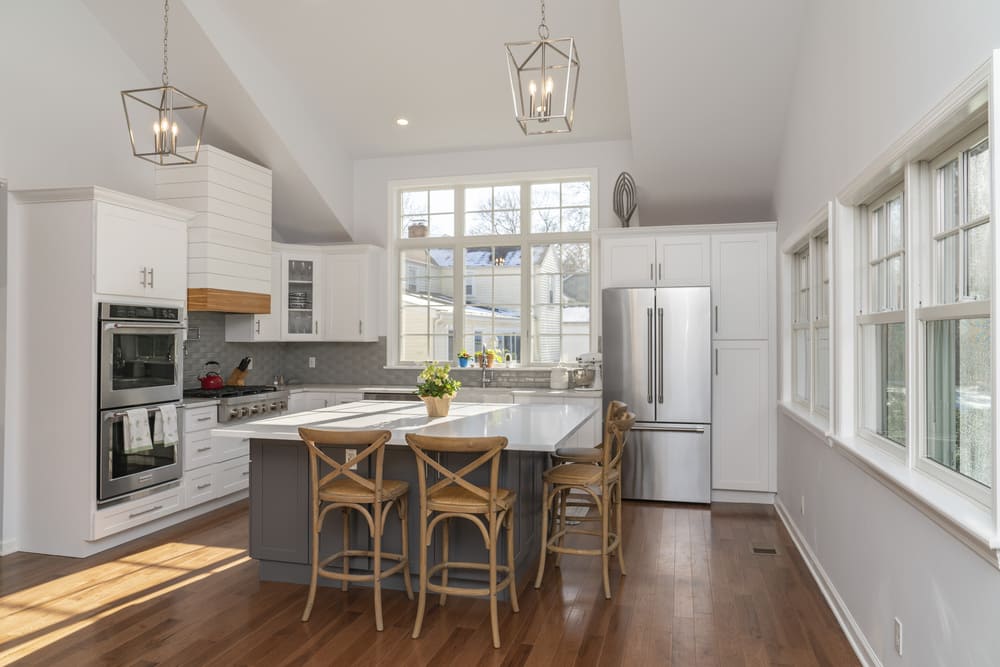 Kitchen remodeling is a massive investment, and it's not something you take lightly. You have to be well informed to avoid mistakes and make the right decisions for your family, home, lifestyle, and budget. Looking at the average renovation costs for a new kitchen in Fairfield County gives you the information you need to build the foundation of your project and find success. Let's take a look!
The Cost Question
There's no one-size-fits-all answer to, "How much do kitchen renovations cost?" The average price for a kitchen remodel is individual because it varies depending on the condition of your current kitchen and the results you want to achieve with your remodel.
Historic homes, for example, cost more to remodel because they may require expensive repairs or extra upgrades to bring things up to date. The size and location of your home also play a role in determining kitchen remodel costs. The prices of home remodeling contractors in your area establish a baseline for cost, and the larger your home is, the more your remodel will cost.
The other major factor is the quality of kitchen remodeling you choose. An extensive kitchen remodel that replaces old cabinetry, expands square footage, and includes other structural changes costs much more than adding a new coat of paint or updating the countertops in a minor remodel. The quality of materials used in your remodeling also impacts price. So, if you have an eye for luxury materials like marble or hardwood expect to pay more — though the results will be well worth it!
Since the quality and type of your kitchen remodel you choose heavily impacts price, let's review the costs associated with each and what you get for your money. We'll use cost averages from the 2022 Cost vs. Value Report for kitchen remodeling projects in Bridgeport, CT, which is located in Fairfield County.
Minor Kitchen Remodeling Cost: $30,403
A minor kitchen remodel can be as big or small as you want. You may spend as little as a few thousand dollars if you only need a few small cosmetic changes. For the average price of $30,403, you can update a 200-square-foot kitchen with new shaker-style cabinet doors, drawer fronts, hardware, laminate countertops, and a mid-priced sink and faucet. You also get more functionality with an energy-efficient slide-in refrigerator and oven range. Then finish off with a coat of paint on your walls, ceiling, and trim.
Major Kitchen Remodeling Cost: $88,722
Minor kitchen remodeling only accomplishes so much. Many homeowners want — and need — structural changes such as an expansion, wall removal, or island addition. These goals require something more: a major kitchen remodel.
With major kitchen remodeling, your kitchen gets an updated functional layout, a 3-by-5-foot island, and 30 feet of semi-custom wood cabinets. New laminate countertops, resilient flooring, and paint shine under custom lighting and give your space a fresh look. And, of course, an energy-efficient range, vented hood, built-in microwave, dishwasher, and garbage disposal are installed.
Upscale Kitchen Remodeling Cost: $170,951
The results of a minor and major kitchen remodel are minuscule compared to what an upscale remodel can accomplish in your home; there's a reason it costs nearly double the price! Upscale remodeling gets you everything you would with a minor or major remodel — layout changes, updated fixtures, new appliances, etc. — in addition to high-end materials and customization.
Imagine a 200-square-foot kitchen transformed. White custom cabinets gleam, setting a bright yet peaceful atmosphere. Beautiful on the outside and organized inside, they are equipped with user-friendly interior accessories such as built-in sliding shelves. Stone countertops, a ceramic or tile backsplash, and durable wood-look-alike flooring add luxury and a sense of timelessness. Meanwhile, designer faucets, a high-end under-mount sink, under cabinet lights, a water filtration system, a wall oven, and other new appliances create functionality in a space that always needs it.
Upscale remodeling affords you high levels of personalization, which means you don't have to stop there. You can customize your kitchen completely, from big changes to the details.
Kitchen Remodeling For You
General estimates and project descriptions are a good starting point, but you need to nail down the specifics before bringing your kitchen remodel to life. Talk to a Fairfield County builder or home remodeling contractor, like Raymond Design-Build, to get help planning your Fairfield construction and learn more about the steps to renovating a house. Tell us about your project today; we'll give you a breakdown of what it's going to take to get the job done and work with you every step of the way to transform your kitchen!